Liam's Light
In 2010 Liams Light initiated research into ARPKD/CHF at SickKids, bringing together two dynamic researchers at SickKids.
In November 2009, when Liam's Light was asked to be an Olympic Torch Relay participant. Liam was so excited, but a tad disappointed when he learnt that he had to be 13 years of age to carry the torch, so instead Deborah carried the torch on his behalf and Liam and Doug ran beside her.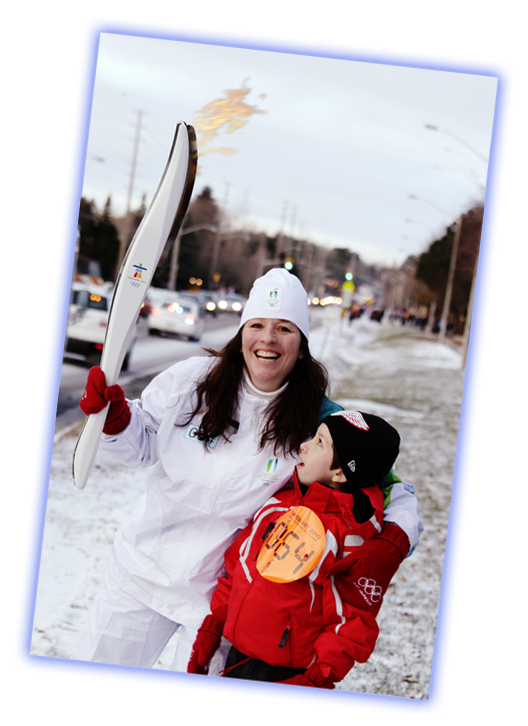 We had some friends out cheering us on and taking pictures as we made our way through Pickering on an early brisk December morning. Words can't quite describe the feeling of being handed the torch and the moments when the flame was passed to light my torch. To me, it represented hope and life and the belief that anything is possible. We feel the same way in regards to Liam's Light. We chose the name "Liam's Light" because to us, the "light" is the hope for tomorrow. So yes, it was very emotional as Doug and Liam ran beside me and we traveled as a family on our journey down the road together with the torch.
In November 2007, we finalized the exciting news that Liam's Light will be helping to fun a dynamic program and research scientist named Stacey Pollock-Bar Ziv within the Pamot Program at SickKids. This will be an ongoing process and Liam's Light will continue to support this program.
The focus and aim of this research scientist will be on improving the quality of life and evaluating the outcomes of pediatric multiple organ recipients.
All proceeds will continue to support the research and care for pediatric transplant's at SickKids Hospital within the Pamot Division.


UPCOMING EVENTS:
2010 Liam's Light Gala Night — An Evening of Hope
Supporting Research and Care for Pediatric Transplants
Friday September 17th, 2010
at The Academy of Spherical Arts.
Tickets: $150.00/pp
Buffet, cocktails, silent and Live auction.
"GREAT FUN FOR A GREAT CAUSE"
For Tickets contact:
Deborah or Doug Moore
T: 416 690 6229
If you would like to make a donation, please send the cheque to:

Liam's Light
14 Lakeside Avenue, Toronto ON M1N 3C1