Unfortunately, the rarity of Caroli's Disease means that Liam's prognosis is uncertain. The doctors have advised us that he most likely will need a kidney transplant down the road. We are still hopeful that with continued medical progress, he may not need a liver transplant. It is uncertain at this point.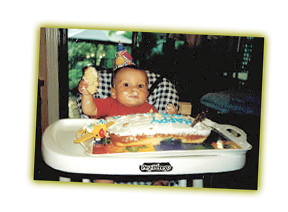 The rarity of the disease as well as the progression of the disease manifests differently in each patient. The severity of the liver and kidney's can result in multiple transplants or singular transplants.
Over the past 6 years we have been in and out of the hospital for varying reason. Our most serious admission to the hospital was in Dec 2002 when Liam was found unconscious in his crib one early morning. He was rushed by ambulance to the hospital where he had multiple seizures and it was detected that he had no blood sugar level in his body. The emergency room doctor saved his life that day, as he told us he was moments from coding.
For a little boy with such a serious life threatening illness he has managed to make his life as "normal" as possible. Liam continues to amaze us with his courage and his quirky sense of humor! He is a remarkable little boy and is very proud of his charity "Liam's Light".