When I was 29 weeks pregnant, my doctor spotted a mass on our son Liam's liver during a routine ultrasound. Unable to make a diagnosis at the time, he told us to remain optimistic, and wait until delivery when more exact testing could be done.
Nine weeks later, on June 15 2000, at Toronto General Hospital at a robust eight pounds, Liam Robert Moore joyously entered our lives, and from that moment we would be forever changed.
He was immediately taken by tunnel to the neonatal intensive care unit at The Hospital For Sick Children (SickKids), where he was put through an extensive battery of tests. Ten long and emotional days later, we finally had our diagnosis, and it wasn't good.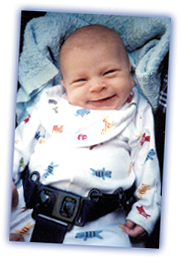 Liam was diagnosed with an extremely rare and life threatening illness called Caroli's Disease. It is a genetic condition that occurs when both parent's share the same recessive gene. The results involve the presence of polycystic kidneys (arpkd) and congenital hepatic fibrosis of the liver (structural abnormalities within the liver).
Liam's condition is very serious. It puts him at risk for gastrointestinal bleeding, hypertension of the liver, cancer, cholangitis, biliary cirrhosis, ascites, stroke and high blood pressure leading to kidney and liver failure.